Pastor Ken's TLC – (Transformation Life Challenge of the week!!!!!)
Are you up to a challenge – Soaring Like an Eagle?
Read Isaiah 40: 27-31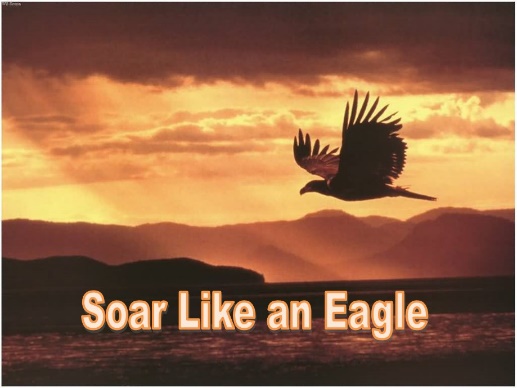 but those who hope in the LORD will renew their strength. They will soar on wings like eagles;
they will run and not grow weary,
they will walk and not be faint.
Isaiah 40:31
You probably do not know this, but I have 3 pictures that hang on the walls in my office of Eagles. I have always been fascinated by the Eagle they are a majestic bird. Not many birds leave people thinking about strength, power, and might like an Eagle. We may think a bird is cute, colorful but powerful, that is left for Eagles. The pictures show Eagles soaring high up in the air, above mountains, rivers and trees. Sometimes I just look at the pictures and it takes me away to a place of peace and freedom. I will never forget seeing Eagles out in the wild while on a train ride through Arizona or the time I was sightseeing in Yellowstone National Forest.
Golden Eagles are interesting, did you know that they weigh on average of 15 pounds and half of that is muscle. When fully grown its wingspan stretches nearly seven feet. They swoop and soar with seemingly effortless skill and grace. Higher than the average bird can soar. They can fly as high as 65,000 feet and average flight speed is 30 mph. They can dive at a rate of 150 mph. Truly amazing!
Have you ever wondered what it would be like to soar like that? Far above issues with the boss, far removed from family hassles, financial stress, or a doctor's report.
Do you ever long for this feeling of freedom this kind of carefree rest just up soaring? I have at times read Isaiah 40:31 and looked up to the sky and wondered:
What would it mean to soar like this?
Does the Lord just tease us with this image?
Or has he made such a life possible?
Over the next few weeks, I will be studying these scriptures (Isaiah 40:27-31) as I do why don't you join me and explore the idea of a life of freedom, strength and purpose. The Lord is not a God of empty promises let us take a journey and see how we can soar like an Eagle.
Do you dare take the challenge of soaring! Get ready
Say this prayer: Lord God, when I look unto the cross and then the empty tomb of Jesus your Son, I see unshakable proof that you do not make empty promises. I ask now that you fill my heart with hope that you will keep your promise to renew my strength so that I may soar, and I may run, and I may walk with the strength you alone can give in Jesus name. Amen.